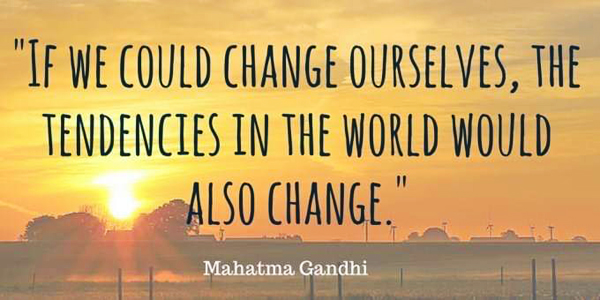 ____________________________________________________________________________
H
ow others are acting lately saddens, angers, and disgusts me. However, I have been guilty of similar behaviors, and if I muster up the courage to reflect on them, I can feel the same way about my own actions. And though I will forever try to minimize them, I will likely continue to directly and indirectly, consciously and subconsciously, disrespect, hurt, and neglect others.
This is my current attempt at some more personal growth, maybe some slacktivism, which I am hoping is marginally better (for me and perhaps the world) than doing nothing: I will again look in the mirror and own some more of my shit. This is because I truly believe the nation is mostly on fire now because of the cycle of othering and projection.
Things aren't black and white (though we are encouraged to view things that way), and my crimes and transgressions, though not as grievous as some others, I still believe are on the same spectrum. I doubt many will read through all of this, but I need to do this primarily for me, not others. Having some witnesses, though, is a part of the process. It is hard to fully own my shit if I keep it mostly hidden.
Like Gregory McMichael, I am guilty of paying more attention to people of color walking down my white street. I have also questioned strangers I thought were doing something wrong, and accused others of things they didn't do.
Like Amy Cooper, I am guilty of making similar threats, and abusing my own power and privilege, like when I told my daughter I would call in her teacher if she didn't behave at home, making her cry even more. I also continue to take advantage of my own whiteness in many ways.
Like Derek Chauvin, I am guilty of applying and maintaining (emotional) pressure on others (mostly my daughters), in an attempt to control them, and ignored their voiced suffering. I have caused them pain from gripping and grabbing them too hard, out of fear and anger.
I am guilty of selfishly refusing to watch the George Floyd video, fearing it will break my heart and scar me, but this likely just contributes to the culture of denial of our nation's historical and current shadow.
Like some police departments, I am guilty of ignoring and even covering up things that would be embarrassing or difficult to deal with. I have done little to educate my daughters on practicing self-reflection and mindfulness skills, or increasing their awareness around race, power, and economic disparities. I feel like I am failing in encouraging, and modeling to, my girls to be routinely compassionate and patient and not abuse their own power with others.
I am guilty of staying in my home out of fear, letting others protest and speak out for me.
Like the looters and rioters, I am guilty of being enraged, and at times, violent with property. There are times my anger has scared others. Sometimes I holler to be heard, and act opportunistically.
Like Donald Trump, I am guilty of being impulsive, and saying stupid, threatening, and misogynistic things. I have bullied and blamed others, and failed to adequately lead things I am supposed to lead, including my own family. I have avoided responsibility, acted recklessly, and can hide in the bunker of my denial when things get too overwhelming.
Like other politicians, I am guilty of staying silent out of fear, of not acting true to myself or my position in order to stay popular or liked or to hold on to my money and power.
I have racist, sexist, LGTBQ-phobic and other bigoted beliefs, which sometimes leak out in micro-aggressions, most of which I am probably not even that aware of.
I am guilty of all of these things, and more, and will continue to be. I am disgusted by these behaviors, whether I, or someone else, exhibits them. I feel shame, regret, and embarrassment with all of this.
But there is also self-compassion, forgiveness, and hope, all of which intensifies when there is a resolve to change, and with each step I take that resonates with my aspirations.
I plan to continue to grow, by knowing my shit, owning it, and working to clean it up. I need to keep reminding myself to be mindful, take responsibility, and proceed thoughtfully.
This is hard to do, and I sob again as I read this one last time before posting. But this is the work that needs to be done.
Dupont Circle . Washington DC June 02/2020

*nguồn facebook - @Matthew Fleming